Hey guys. Going to post this if any of you are wanting to host a server for halo ce. Step by step instructions

.
Step 1) Download SAPP (Halo ce server app) from
www.xhalo.tk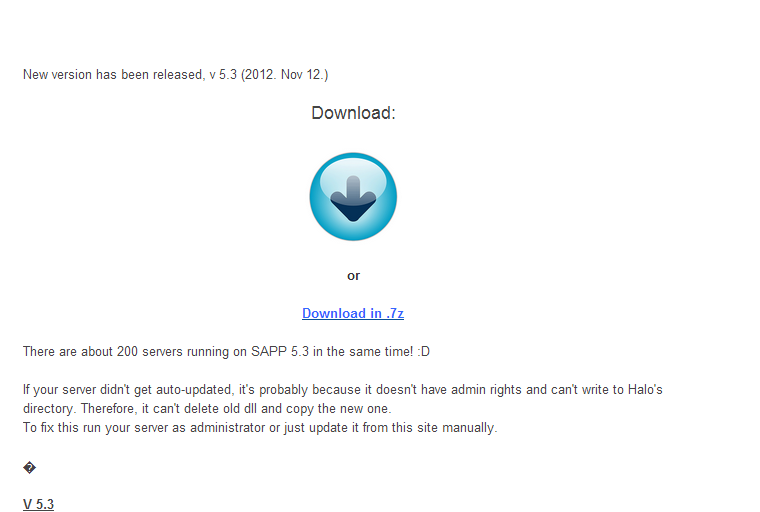 Step 2) Make sure your ports are forwarded. To do this you will need to access your router/modem most routers are 192.168.0.1 or 192.168.1.1 but it will either be on the back of the router or you can google the make and model of your router/modem. All you do is type this into the address bar in the web browser of your choice. It will ask you for a username and a password again this may vary from different types of router/modem normally it is user: Admin :password:Password. You then go to firewall or port-forwarding and forward ports default 2302 and 2303 UDP and port 80 TCP. Mine is 192.168.1.254.
And here is my forwarded ports.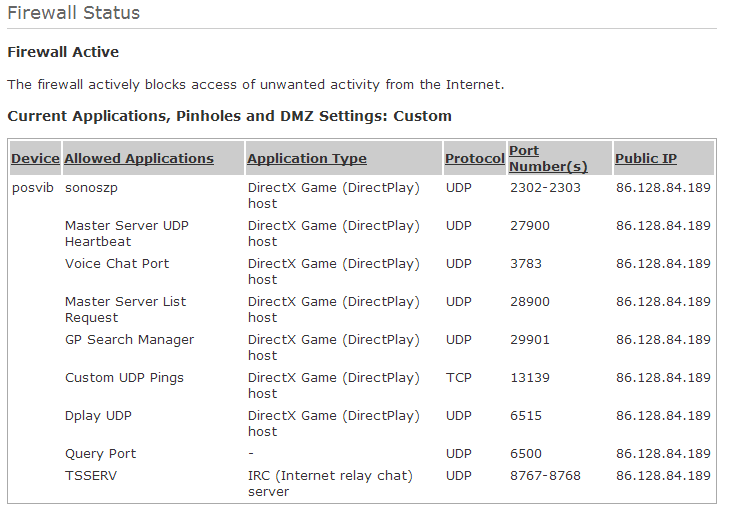 Okay, once they are all dealt with. We now need to modify/set-up an .init file. This is the file that the server reads when
the gametypes are setup. You can change these to what ever game type you have saved on your halo game.
Example of the .init file we use for the server:
sv_name "=ToH= Snipers & Shotguns (No Shields)" (Name of server)
sv_public True (Always True so people can see it on gamespy)
sv_mapcycle_timeout 15
sv_mapcycle_add bloodgulch sniper (Start of the map-cycle then the game type)
sv_mapcycle_add beavercreek Shotguns (second map on the map-cycle)
sv_log_enabled 1 (This will keep a log of everything that happens on the server)
sv_log_echo_chat 1 (This will show the chat on the main console)
sv_tk_grace 1s (This is the team kill grace timer)
sv_mapcycle_timeout 5
sv_mapcycle_begin (Begins map cycle)
sv_rcon_password (This is where you set your rcon password)
sv_motd "motd.txt" (This is where the motd can be modified)
sv_maxplayers 16
sv_tk_ban 5 (5 TK till ban)
load (Loads SAPP)
V1 (Forces halo on to v1.0.0)
no_lead 1 (No lead enabled)
afk_kick 60 (AFK kick 60 seconds)
ping_kick 500 (Ping kicks anyone over 500ms)
antihalofp 1 (Stops people making FP (Fake Players) from the same computer)
anticaps 1 (People that use caps lock all the time will be forced to use lower case)
antispam 1 (people that spam will be muted automatically)
map_skip 51 (Enables skip votes)
aimbot_ban 200 2
adminnotice 1 (Will let people know if an admin has joined at the begining of each game
save_scores 1 (will dave your scores if you get dissconnected)
gs_ping_fix 1 (This is usefull for showing a ping on the gamespy servers and will show the exact ping of the player. For some reason)
msg_prefix "=ToH= "
Easy... Kinda. Any problems, you know where to find me

~SwordFish~
Last edited by SwordFish on Fri Nov 30, 2012 7:21 pm; edited 1 time in total
Oh yeah forgot to mention you'll need a lot of bandwidth (internet speed) especially upload speed. You can find that here
www.speedtest.net
I would say 10mbps is enough but the game will run 16 players with 900k - 1mbps fairly lag free.
Some routers can be 10.0.0.1
Also you need to find the Local address for your computer which you can do by going to cmd and typing in "ipconfig" it should tell you.
he default gateway is what you would type into your brower.
You can host a server with .50mb/s upload speed.
This is a very helpful site that tells you step by step how to portforward your router;
http://portforward.com/
P.S. I have an awesome zombie gametype, if anyone wants it pm me.
P.S.S I can make a video if needed.



Posts

: 32


Join date

: 2012-07-13



Similar topics
---
Permissions in this forum:
You
cannot
reply to topics in this forum